For people interested in the New Testament in general and the historical Jesus in particular, a knowledge of the Jewish historian Josephus is essential.  I just read two books dealing with Josephus.
Steve Mason is one of the top Josephus scholar's out there today.  His book Josephus and the New Testament is extremely helpful.  He provides a very good introduction to Josephus as well as the ways that Josephus sheds light on the New Testament.  Of particular interest to me is the way Mason deals with the issue of Josephus' mention of Jesus.  Although evangelicals might not agree with everything Mason says, his book is still very good for understanding Josephus.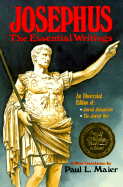 The other book I read was Josephus: The Essential Writings translated by Paul L. Maier.  Most people read the old translation by William Whiston.  It is nice to have a fresh translation.  One of the things that holds people back from reading Josephus is that he often goes on tangents.  Maier provides a condensed version of Josephus and avoids these tangents, thus giving the reader a good introduction to Josephus.  One of the very good things about this translation is that Maier tackles the problem of Josephus' description of Jesus.  Maier peels away the Christian interpolation and presents what is likely the original description that Josephus gave.
Both of these books are highly recommended for those interested in studying Josephus.