Canada is blessed to have many great pastors. One of those is Dr. Charles Stone of West Park Church in London, Ontario. I became aware of Dr. Stone through his book, People-Pleasing Pastors. I am thankful that he was willing to share some of his wisdom with us.
Could you share a little about your background, including how you became a follower of Jesus?
I grew up in a Christian family, joining a church when I was nine. It was not until several years later when I gave my life to Jesus, realizing what salvation really meant. I never was a jock in school, just a nerd. I loved school and excelled.
What led to you becoming a pastor?
While in college, I returned from a men's retreat and while doing an assignment in my room, I sensed God's deep call on my life for vocational ministry. It was a clear call, though not an audible voice from God.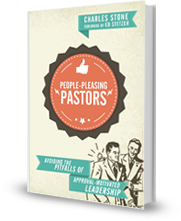 Could you tell us a little about your recent book, People-Pleasing Pastors?
I grew up with approval tendencies and those transferred into my pastoral life. While not compromising my theology or morals, I often said 'yes' when others wanted something from me. Often I later regretted having put something else on my place. Through years of struggle I came to realize my people pleasing tendencies. That led me to writing the book. I consider myself a recovering people pleaser now,
What is "neuroministry" and why is it important?
Neuroministry is a term I coined to describe how learning about how the brain works can profoundly affect our lives and leadership for good. The last several years I've made it a passion to learn about the brain. I will finish an executive masters in the Neuroscience of Leadership in April and I have another book coming out in May on the subject, Brain-Savvy Leadership: The Science of Significant Ministry.
What advice would you give a new pastor just starting out in ministry?
I'd suggest two things. Find a wise mentor. And second, take care of your soul. Build your emotional and spiritual health above all.
Thank you Charles.
You can find out more about Charles Stone at his website www.charlesstone.com.